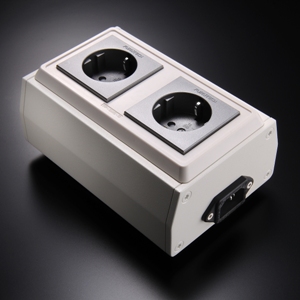 FP-SWS-D Power Distributor
High performance duplex schuko distributor
RATING
10A/250VAC
FEATURES
FP-SWS-D(R) Power Distributor
• The beautifully crafted special grade aluminum chassis effectively shields against RFI (Radio Frequency Interference). Material thickness: chassis and side plates 5.0mm
• Nonmagnetic Rhodium plated FP-SWS-D(R) Schuko socket star-wired to a FI-10(R) IEC Inlet.
• Piezo ceramic and nano-carbon damping spikes.
• A layer of Formula GC-303 bonded to the bottom plate effectively shields against EMI (Electro Magnetic Interference)
• Star-wired Furutech α (Alpha) -14, 2.0 sq. mm (14 AWG) conductors for low electrical resistance, conductors insulated within resonance-absorbing tubing.
• Dimensions: 159.0mm (L) x 108.0mm (W) x 60.0mm (H) without FP-SWS-D and spikes.

SPECIFICATIONS
Important customer notice:
Only products sold by authorized Furutech dealers are covered by warranty. In order to obtain warranty service, proof of purchase from the authorized Furutech dealer must be provided to either the Furutech dealer or the Furutech distributor in the country of purchase. The team at Furutech and our partners worldwide thank you for your understanding.
Caution* eBay, Amazon, Yahoo Auction and Rakuten resellers in Japan are not authorized Furutech dealers and there have been confirmed cases of counterfeit products being sold on these platforms out of Japan. Caution* There have been confirmed cases of counterfeit products (Furutech replicas) being sold out of China and Hong Kong on eBay and www.aliexpress.com. Furutech advises against purchasing from either site any "Furutech" labeled product that ships from China or Hong Kong.