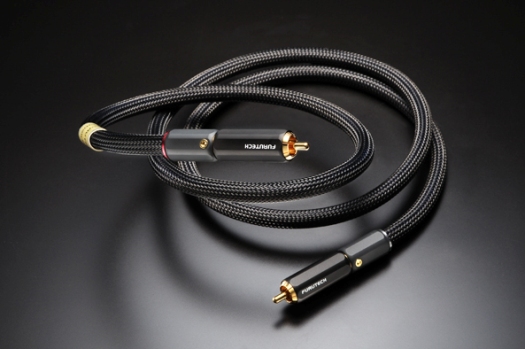 Evolution II Digi(RCA)
Evolution II Audio Cables
RATING
Updated Evolution II Audio Cables
Pure Transmission Performance for Value Conscious Audiophiles

Furutech's Evolution Series was awarded The Absolute Sound Editors'
Choice Award in both 2007 and 2008

(Type: Hyper-Coaxial Interconnects)
Evolution II Digital (XLR) (RCA)• 1.2meter
Feature US High Performance Addiction • Audiophiles Want What They Need


All enthusiasts are looking for the same things: Verisimilitude, a sense ofengagement promoting suspension of disbelief, a veritable immersion in audio and video experience. To detach without effort from modern time's exigencies requires meticulous preparation of the entire playback chain, especially cables, power cords and AC distribution.
Evolution II, an update of the extremely well received Evolution series, incorporates newly-engineered anti-resonance cable clamps as well as an upgraded dielectric/insulation of RoHS-compliant Pb-free PVC incorporating anti-resonance carbon particles in its manufacture. Our Pure Transmission philosophy incorporates rhodium-plated pure copper conductors, even the IEC connectors of the Evolution II power cord. No detail too small, every element of signal and power transmission engineered to within an inch of its life, treated with advanced processes, and turned out with beautiful design and build quality to enrich every music experience.
FEATURES
・Finished with beautifully engineered High Performance FP-110 (G) RCA connectors

・RCA center pin 24k gold-plated nonmagnetic α (Alpha)-OCC conductor with Teflon dielectric

・RCA connector backbone composed of nonmagnetic 24K gold-plated eutectic cast copper alloy with
 beautifully finished nonmagnetic copper alloy outer locking shell

・Shield: 0.12 mm α (Alpha) conductor wire braid

・Cable insulated with polypropylene reducing capacitance and damping vibration

・Results in greater resolution, clarity, powerful dynamics, and an ultra-quiet soundstage in which
 music develops more fully without artificial upper-frequency "presence region" glare
SPECIFICATIONS
Evolution II Digital (RCA) • 1.2m (3.9ft)
・37-strand α (Alpha) -OCC Conductor・0.16mm, 1.15mm diameter
・Insulation-1: Specifical grade Polyethene Skin 1.17mm diameter
・Insulation-2: Air-formed PE(Inner)+ Specifical grade Polyethene Skin ,5.5mm diameter
・Shield:  0.12mm braided α (Alpha) Conductor ,6.3mm diameter
・Sheath:  RoHS Compliant flexible PVC (Dark Blue) 8mm diameter
・Jacket:  Nylon yarn braid approx. 9.5mm
・Connectors: FP-110(G) RCA.

Electrical Properties of Cable / Test Method
・Max. Conductor Resistance 25.1 Ω/km,JISC3005 6 20℃
・Min. Insulation Resistance 1000 MΩ‧km,JISC3005 9.1 20℃
・Dielectric Strength        AC. 1000 V/1 min.,JISC3005 8
・Electrostatic Capacitance Approx 56 PF/m,at 1 KHz
・Characteristic Impedance 75 ± 5 Ω,at 10 MHz


Important customer notice:
Only products sold by authorized Furutech dealers are covered by warranty. In order to obtain warranty service, proof of purchase from the authorized Furutech dealer must be provided to either the Furutech dealer or the Furutech distributor in the country of purchase. The team at Furutech and our partners worldwide thank you for your understanding.
Caution* eBay, Amazon, Yahoo Auction and Rakuten resellers in Japan are not authorized Furutech dealers and there have been confirmed cases of counterfeit products being sold on these platforms out of Japan. Caution* There have been confirmed cases of counterfeit products (Furutech replicas) being sold out of China and Hong Kong on eBay and www.aliexpress.com. Furutech advises against purchasing from either site any "Furutech" labeled product that ships from China or Hong Kong.