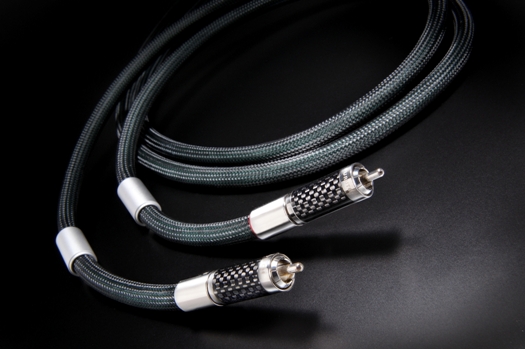 Lineflux (RCA)
High Performance Line cable
RATING
•Solid α (Alpha) OCC Conductor
•Double-layer shielding for improved noise insulation
•Insulation/Dielectric: High-grade polyethylene
•Connectors: Beautiful, hefty rhodium-plated carbon fiber and stainless steel CF-102R RCA connectors
•The best damping and insulation materials available for improved frequency extension and smooth tonal balance
•Carefully engineered cable clamp improves grip reduces mechanical and electrically-induced distortion
•Dimensions: Cable diameter approx. 13.0mm • Overall length: 1.2M/set
FEATURES
Top of the Line for 2009! Furutech Lineflux Series Interconnects

Refinement Personified
All audiophiles search for the same qualities: Verisimilitude to the original event,a sense of engagement promoting suspension of disbelief, a visceral immersion in the audio video experience.
The dilemma faced by many is that poor recording values are more apparent as audio systems gain clarity, transparency and resolution. Recordings that are acceptable sounding on a compromised system may grate as the bass, midrange and upper frequencies open up.
The wideband, smooth, extremely low noise and utterly musical presentation achieved by Furutech's beautifully finished Lineflux cables is down to meticulous engineering and a careful audition of various suitable materials. These results in the superb overall balance of qualities that Furutech is known for that allow you to feel, experience and communicate with music.
Furutech Lineflux interconnects feature solid-core α (Alpha) OCC conductor, double-layer shielding, and a high-grade polyethylene dielectric with insulating materials that further dampen the transmission line.
The substantially-built extremely nonresonant RCA or XLR connectors are finished in layered carbon fiber and stainless steel with rhodium-plated pins.
The results are extremely fine resolution down and through the very low noise floor, improved soundstaging and image palpability, a musical, attractive, "round" midrange, tight and controlled bass, plus power and dynamics to spare.
SPECIFICATIONS
Important customer notice:
Only products sold by authorized Furutech dealers are covered by warranty. In order to obtain warranty service, proof of purchase from the authorized Furutech dealer must be provided to either the Furutech dealer or the Furutech distributor in the country of purchase. The team at Furutech and our partners worldwide thank you for your understanding.
Caution* eBay, Amazon, Yahoo Auction and Rakuten resellers in Japan are not authorized Furutech dealers and there have been confirmed cases of counterfeit products being sold on these platforms out of Japan. Caution* There have been confirmed cases of counterfeit products (Furutech replicas) being sold out of China and Hong Kong on eBay and www.aliexpress.com. Furutech advises against purchasing from either site any "Furutech" labeled product that ships from China or Hong Kong.