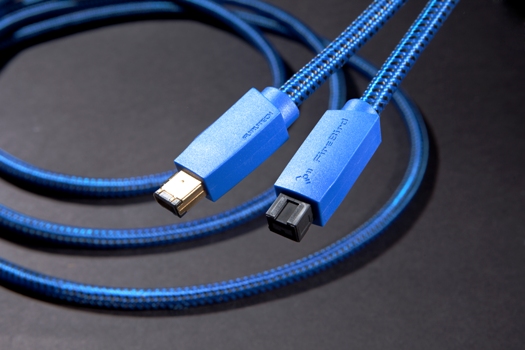 FireBird
High End Performance IEEE 1394 FireWire Cable
RATING
FireBird-96 (9pin to 6pin)
FireBird-66 (6pin to 6pin)
FEATURES
Furutech is proud to introduce the elegant FireBird IEEE 1394 FireWire lineup.
When it comes to cables everything makes a difference; materials, geometry, treatments, insulation and shielding all effect the sound and picture. Everyone needs fast transfer rates, solid construction and reliability, and if the cable doesn't look like an eye-sore so much the better.
The FireBird series dazzles with 24 AWG silver-plated α (Alpha) OCC conductors and 20 AWG silver-plated α (Alpha) OFC power conductors for a powerful connection!

Furutech is known the world over for their quality and wide variety of cables and accessories.

They deliver consistently superb results because Furutech engineers adhere to Pure Transmission principles;
examine every element of the signal and power path and optimize each and every one. Furutech's beautifully finished products match the beauty of their sound and video, the result of meticulous engineering and careful audition of various suitable materials.
SPECIFICATIONS
・High-performance IEEE 1394 FireWire cable handles transfer rate up to 800 Mbps
 (FireBird-99)

・Main conductor wire: 24 AWG silver-plated α (Alpha) OCC conductors deliver minimal
 transmission loss

・20 AWG silver-plated α (Alpha) OFC power conductor make a powerful connection

・FireWire Connectors: 9-pin-to-6-pin / 6-pin-to-6-pin

・Low-noise double-layer isolation, AL foil and copper wire braiding, triple-layer shielding

・Jacket: RoHS-compliant flexible PVC (Black) and Nylon braided sleeve

・ Production Lengths: 0.6m / 1.2m / 1.8m / 3.6m / 4.5m
Important customer notice:
Only products sold by authorized Furutech dealers are covered by warranty. In order to obtain warranty service, proof of purchase from the authorized Furutech dealer must be provided to either the Furutech dealer or the Furutech distributor in the country of purchase. The team at Furutech and our partners worldwide thank you for your understanding.
Caution* eBay, Amazon, Yahoo Auction and Rakuten resellers in Japan are not authorized Furutech dealers and there have been confirmed cases of counterfeit products being sold on these platforms out of Japan. Caution* There have been confirmed cases of counterfeit products (Furutech replicas) being sold out of China and Hong Kong on eBay and www.aliexpress.com. Furutech advises against purchasing from either site any "Furutech" labeled product that ships from China or Hong Kong.