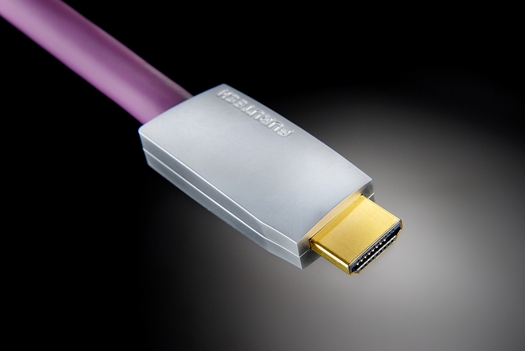 HDMI-xv1.3
HDMI Digital Cable
RATING
HDMI-xv1.3 Cable Rated for New Generation 120-Hz LCD/Plasma Standard
supports 3D and 4K up to 8 meters

HDMI Digital Cable – xv1.3 (High-Definition Multimedia Interface Cable)

Up to 5.0M => 4K/60P (444/8bit =18.0G , 422/12bit =18.0G)
Up to 8.0M => 4K/30P (422/12bit =13.5G)

FEATURES
HDMI-xv1.3 cable is engineered to work flawlessly in lengths up to 5 meters with new-generation
120-Hz LCD and plasma screens coming to market later this year. Furutech Pure Transmission technology turns a macro lens on every element of power and signal transfer applying optimized engineering solutions to well-known problems such as contact resistance, EMI and RFI rejection using the best materials and processes available.

Meticulous attention to build quality is a large part of the engineering equation:
Silver-plated Alpha-OFC solid-core conductors are protected with five full layers of shielding – also an industry first – terminated with beautifully finished nonmagnetic Pearl Chrome aluminum alloy connectors with 24K gold-plated α (Alpha) contacts.
Top Japanese Audio/Video commentator Tadashi Yamanouchi reports, "This is THE HDMI cable to realize the true potential of your video source."
SPECIFICATIONS
・Successfully completed ATC Compliance testing at the HDMI Authorized Testing Center
---Silicon Image (1080P / 1.3b Ver. Cat.2 / 10.2 Gbps / 16 bit / 60Hz max.).

(1080P /1.3b ver. / Cat.2 / 13.4 Gbps / 12 bit /120Hz max.) 1m, 2m, 3m, 5m only

・Main Conductor: α(Alpha) conductor (24 AWG Silver plated μ–OFC solid core wire) for ultra low transmission loss.
・HDMI Connector constructed of Pearl Chrome finished Aluminum Alloy with non-magnetic 24K Gold Plated
 α (Alpha) contacts
・Cable: UL Specified Pb free Fire-retardant PVC Sheath and 5 layer shielding around conductors for superior
 noise isolation.
・Production Lengths: 1M/2M/3M/5M/8M/10M/12M/15M/20M.

supports 3D and 4K up to 8 meters!

α(Alpha) conductor : Silver plated μ–OFC conductor wire strands treated with the α(Alpha) process.
Important customer notice:
Only products sold by authorized Furutech dealers are covered by warranty. In order to obtain warranty service, proof of purchase from the authorized Furutech dealer must be provided to either the Furutech dealer or the Furutech distributor in the country of purchase. The team at Furutech and our partners worldwide thank you for your understanding.
Caution* eBay, Amazon, Yahoo Auction and Rakuten resellers in Japan are not authorized Furutech dealers and there have been confirmed cases of counterfeit products being sold on these platforms out of Japan. Caution* There have been confirmed cases of counterfeit products (Furutech replicas) being sold out of China and Hong Kong on eBay and www.aliexpress.com. Furutech advises against purchasing from either site any "Furutech" labeled product that ships from China or Hong Kong.