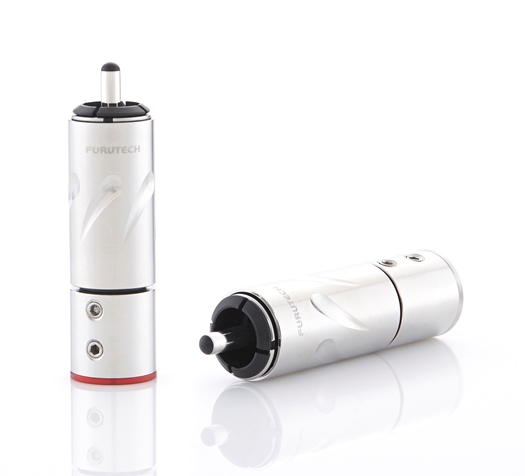 FT-111(R)/(G)
High End Performance RCA connector
RATING
FT-111(G)
FT-111(R)

4 pcs/set
FEATURES
Whether you're an OEM manufacturer, a DIY audio hobbyist or just an audiophile looking to improve musical performance, you have certain priorities when it comes to making quality cable terminations. RCA plugs, for example, should have robust construction and provide a tight and secure fit—at the very least. Add exceptional sound quality, ease of installation and a stunning finish that makes every cable project look professional, and you'll wind up with a superior product that extracts every last bit of performance from your cable design.
The new Furutech FT-111 Locking Collet RCA connectors meet—and surpass—those high standards of excellence. Our engineers have examined every part of the signal and power path in order to optimize every single connection, and our extensive research has led us to the low metal mass FT-111. Furutech started with an Alpha pure copper one-piece conductor for designed for minimal impedance, and then added the following features:
• Non-magnetic SUS set screw construction design
• Extremely insulated POM body with non-resonant SUS housing and non-magnetic stainless steel end ring
• One piece Rhodium conductors for the FT-111(R), or 24K gold-plated Alpha pure copper conductors injected with POM resin for the FT-111(G)
Best of all, the FT-111 Locking Collet RCA connectors require no soldering. That means you'll spend less time terminating and more time listening to the results. Our legendary OEM parts are known all over the world for quality construction and superb sound, so discover for yourself how the Furutech FT-111 connectors can improve the performance of your cables.

SPECIFICATIONS
•Main conductor:
 Plus polarity---One piece Rhodium or 24k gold-plated α (Alpha) Pure copper tube injected with POM resin
 Minus polarity---One piece Rhodium or 24k gold-plated α (Alpha) Pure copper conductor
•Housing: Nonmagnetic Stainless steel.
•Insulation Body: Injection Black POM Resin.
•Connections: Set screws
•End Ring: Nonmagnetic Stainless steel

・Specified for core insulation diameters up to 10.0mm
・Housing dimensions: 14.0ψ×26.5mm overall length
・Total overall length: 50.6mm approx.
Important customer notice:
Only products sold by authorized Furutech dealers are covered by warranty. In order to obtain warranty service, proof of purchase from the authorized Furutech dealer must be provided to either the Furutech dealer or the Furutech distributor in the country of purchase. The team at Furutech and our partners worldwide thank you for your understanding.
Caution* eBay, Amazon, Yahoo Auction and Rakuten resellers in Japan are not authorized Furutech dealers and there have been confirmed cases of counterfeit products being sold on these platforms out of Japan. Caution* There have been confirmed cases of counterfeit products (Furutech replicas) being sold out of China and Hong Kong on eBay and www.aliexpress.com. Furutech advises against purchasing from either site any "Furutech" labeled product that ships from China or Hong Kong.