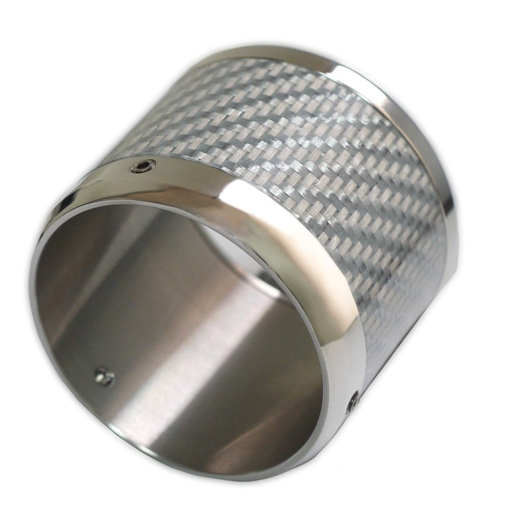 The Suppressor CF-080
(AC Connector Damping Ring)
RATING
Introducing the Suppressor Carbon Fiber-Clad Stainless Steel AC Power Connector Damping Ring
Premier Performance and Legendary Build Quality
FEATURES
The Suppressor (CF-080 AC Connector Damping Ring)

Furutech is known the world over for a huge variety of top-quality OEM parts.
Furutech delivers consistently superior results by following Pure Transmission principles; examine every link in the power and signal path and ultimately optimize each and every element. And that especially includes damping mechanical resonances from a variety of mechanical and electrical effects.

In highly resolved audio systems everything makes a difference. The Suppressor Ring is a substantially-built silver-colored carbon fiber over nonmagnetic stainless steel damper ring with three fixing screws.
It accommodates all Furutech AC connectors except the FI-50 Piezo Ceramic series that was a Best of Innovations Award-winner for its built-in mechanical and Piezoelectric damping. If your Furutech power cores are not equipped with FI-50 AC connectors adding the Suppressor Ring is the next best thing for low distortion playback. Most effective when used on IEC connectors.
SPECIFICATIONS
・ Body: CNC Lathe stainless steel
・ Outer Cover Finish: Silver-Color Carbon Fiber
・ Fixing Screws: 3 SUS screws M3 x 3mm (L)
・ Dimensions: 44.5ψ x 37.0 ±0.3mm (L) overall length approx.
Important customer notice:
Only products sold by authorized Furutech dealers are covered by warranty. In order to obtain warranty service, proof of purchase from the authorized Furutech dealer must be provided to either the Furutech dealer or the Furutech distributor in the country of purchase. The team at Furutech and our partners worldwide thank you for your understanding.
Caution* eBay, Amazon, Yahoo Auction and Rakuten resellers in Japan are not authorized Furutech dealers and there have been confirmed cases of counterfeit products being sold on these platforms out of Japan. Caution* There have been confirmed cases of counterfeit products (Furutech replicas) being sold out of China and Hong Kong on eBay and www.aliexpress.com. Furutech advises against purchasing from either site any "Furutech" labeled product that ships from China or Hong Kong.