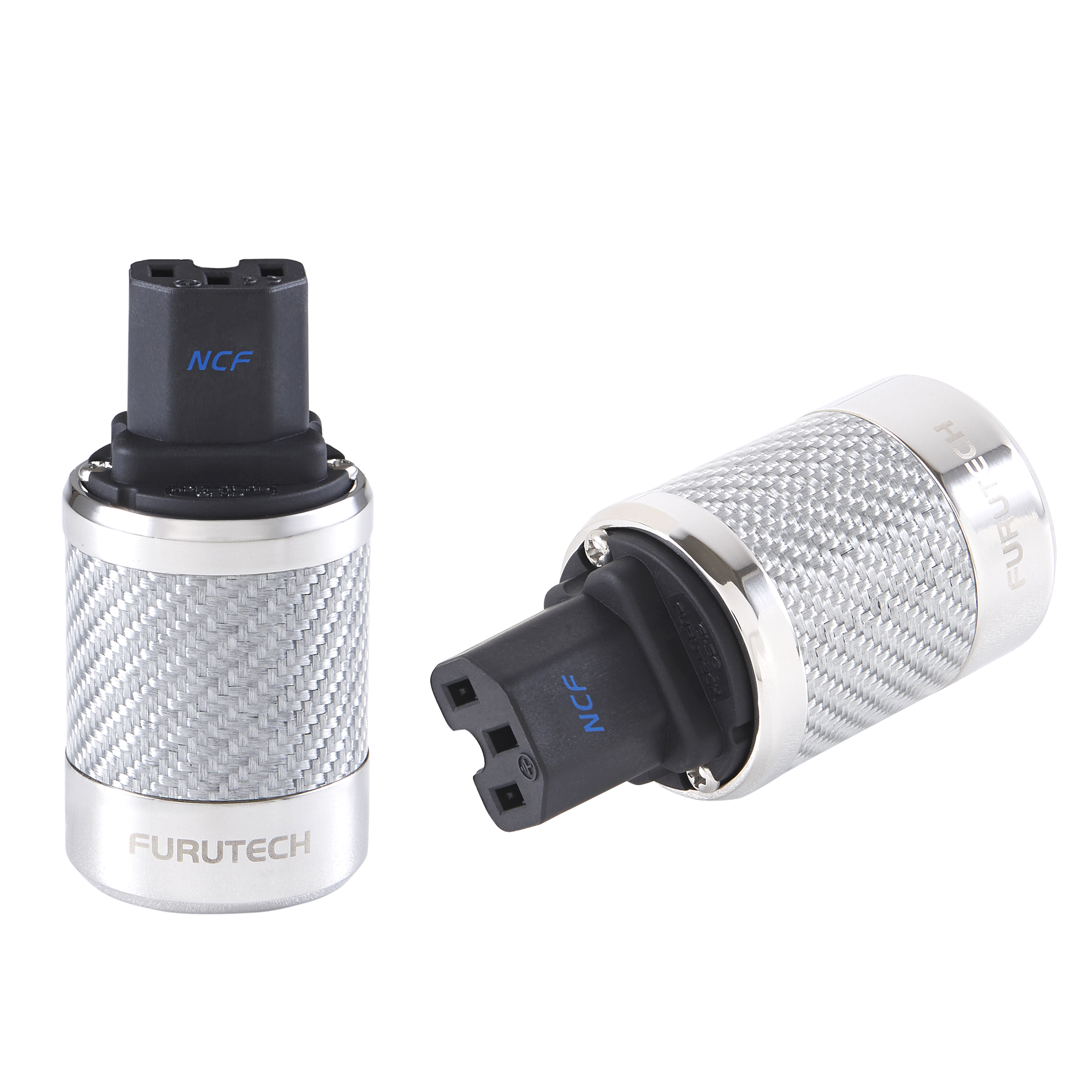 FI-50 NCF(R)
Furutech's Ultimate Power Connector Series
-Awards-
-Review-
"With characteristics unlike usual gold plating, it achieves high resolution and high S / N ratio sound reproduction. Combination of high purity copper conductors and gold plating offers a very natural sound."
Masamitsu Fukuda (Top Japanese Audio Commentator)
<TRPTK recording studio tests NCF>
Recording studio trptk.com tests NCF – Netherlands July 2017
(TRPTK was founded in 2014 by audio engineer Brendon Heinst and music producer Luuk Meijssen, as a movement against the degradation of sound quality and emotional impact of recordings. The only reason why music still exists as an art form, is because there are artists out there who want to keep telling their stories, regardless of what it will take to do so. They just want to be heard! And we want to be there to pass their message through)
TRPTK did recordings with test power cords powering the Sonodore power supply and preamplifier, one test with a cable fitted with Furutech's FI-50 NCF and FI-E50 NCF connectors, and then one with a regular generic power cord. The recordings of a piece called Luminous by composer Maurizio Bignone played by cellist Maya Fridman – the cello was chosen as it is such an extremely rich and broad-band sound
The signal path was:
- Sonodore RCM-402 60V active powered microphone
- Mogami 2534 Quad Neglex microphone cable
- Sonodore MPA-502 60V power supply and preamplifier (powered with either Empire, NanoFlux NCF, or generic cable, through the NCF test box's normal or NCF output)
- Furutech FA-aS21 interlinks (12m)
- Merging HAPI at 352.8 kHz with Premium Input Modules
- Digital Audio Workstation with Pyramix 11
Follow the TRPTK blog HERE
All cabling, both power and audio, were by Furutech.
In my personal opinion, there is no other choice for cabling if you're only happy with the absolute best.
Being very finicky about my sound, there's only one cable manufacturer I fully trust.
– Brendon Heinst
…I have to say, after this test, I am astounded by the quality of this cable. You clearly hear there's so much more space in the recording, such an openness I've never experienced before.
– Brendon Heinst
The recordings can be heard below:
——–
☆44.1kHz/24bit flac Recording Source File

 Generic power cord 44.1kHz/24bit flac
 Furutech NCF cord 44.1kHz/24bit flac
——–
☆352kHz/24bit flac Recording Source File

 Generic power cord 352kHz/24bit flac
 Furutech NCF cord 352kHz/24bit flac
RATING
FI-50 NCF---15A 125V /10A 250V AC
FEATURES
NCF Piezo Ceramic Series Connectors • A Furutech First!
Furutech's Pure Transmission FI-50 NCF Piezo Ceramic series connector bodies and housings feature several breakthrough construction techniques.
A multilayer nonmagnetic stainless steel and silver plated carbon fiber shell incorporates a special damping and insulating acetal copolymer. Furutech settled on stainless and silver plated carbon fiber for the outer housing after extensive listening sessions with Japanese industry figures and audiophiles.

The body of the connectors incorporates an "active" damping material: Nano Crystal² Formula - Nano Crystalline, Ceramic and Carbon Powder
Incorporated into select Furutech products, Nano Crystal² Formula --- NCF is comprised of a special crystalline material that has two "active" properties. First, it generates negative ions that eliminate static and secondly, it converts thermal energy into far-infrared. Furutech then combines this remarkable crystalline material with nano-sized ceramic particles and carbon powder for their additional "Piezo Effect" damping properties. The resulting Nano Crystal² Formula is the ultimate electrical and mechanical damping material – only found in Furutech products!
Nano Crystal² Formula eliminates static, "interconverts" thermal, mechanical and electrical energy and damps vibrations—all for the finest Furutech Pure Transmission signal imaginable.

Floating Magnetic Field Effects
The Furutech Earth/Ground Jumper System
How far will Furutech's engineers go in their attempts to reach Pure Transmission reference quality? Their concentrated examination of each and every element of signal transfer has resulted in another breakthrough technology, the Furutech Earth/Ground Jumper System. It eliminates EMI (Electromagnetic Interference) induced in metal parts like connector housing screws.

Current flowing through the power connector creates a magnetic field, just as an insulated conductor creates both electromagnetic and electrostatic fields. Furutech engineers found this magnetic field induces current flow (and a small magnetic field) in the screws holding the connector together! These magnetic fields interfere with the larger magnetic field around the conductor and connector.

Furutech's total attention to detail and elegant engineering neatly solves the problem. The Earth/Ground Jumper System connects the securing screws to a ground terminal within the plug completely eliminating the field disturbances they cause. The stray fields are grounded by a series of interlocking parts within the connector that attach to the ground conductor. The Jumper System is available in Furutech NEMA Power and IEC Connectors. The Earth/Ground Jumper System Carries US Patent No. 6,669,491

SPECIFICATIONS
• α (Alpha) Pure-Copper Rhodium-plated Conductor
• Earth (Ground) Jumper System (US Patent No.: 6,669,491/European:EP1445837)
• Nylon/fiberglass body with a special anti-resonance nano-sized crystalline, piezo ceramic particles and carbon damping material
• Multilayered nonmagnetic stainless steel and silver plated carbon fiber housing incorporating an acetal copolymer. The best of damping and insulation materials improve frequency extension and tonal balance
• Specified for cable diameters from 6mm to 20mm
• Dimensions:
FI-50 NCF Body length 44mm x 34.5mm diameter / 80.3mm overall length
• Metal cable clamp improves grip and reduces mechanically and electrically induced distortion

Important customer notice:
Only products sold by authorized Furutech dealers are covered by warranty. In order to obtain warranty service, proof of purchase from the authorized Furutech dealer must be provided to either the Furutech dealer or the Furutech distributor in the country of purchase. The team at Furutech and our partners worldwide thank you for your understanding.
Caution* eBay, Amazon, Yahoo Auction and Rakuten resellers in Japan are not authorized Furutech dealers and there have been confirmed cases of counterfeit products being sold on these platforms out of Japan. Caution* There have been confirmed cases of counterfeit products (Furutech replicas) being sold out of China and Hong Kong on eBay and www.aliexpress.com. Furutech advises against purchasing from either site any "Furutech" labeled product that ships from China or Hong Kong.