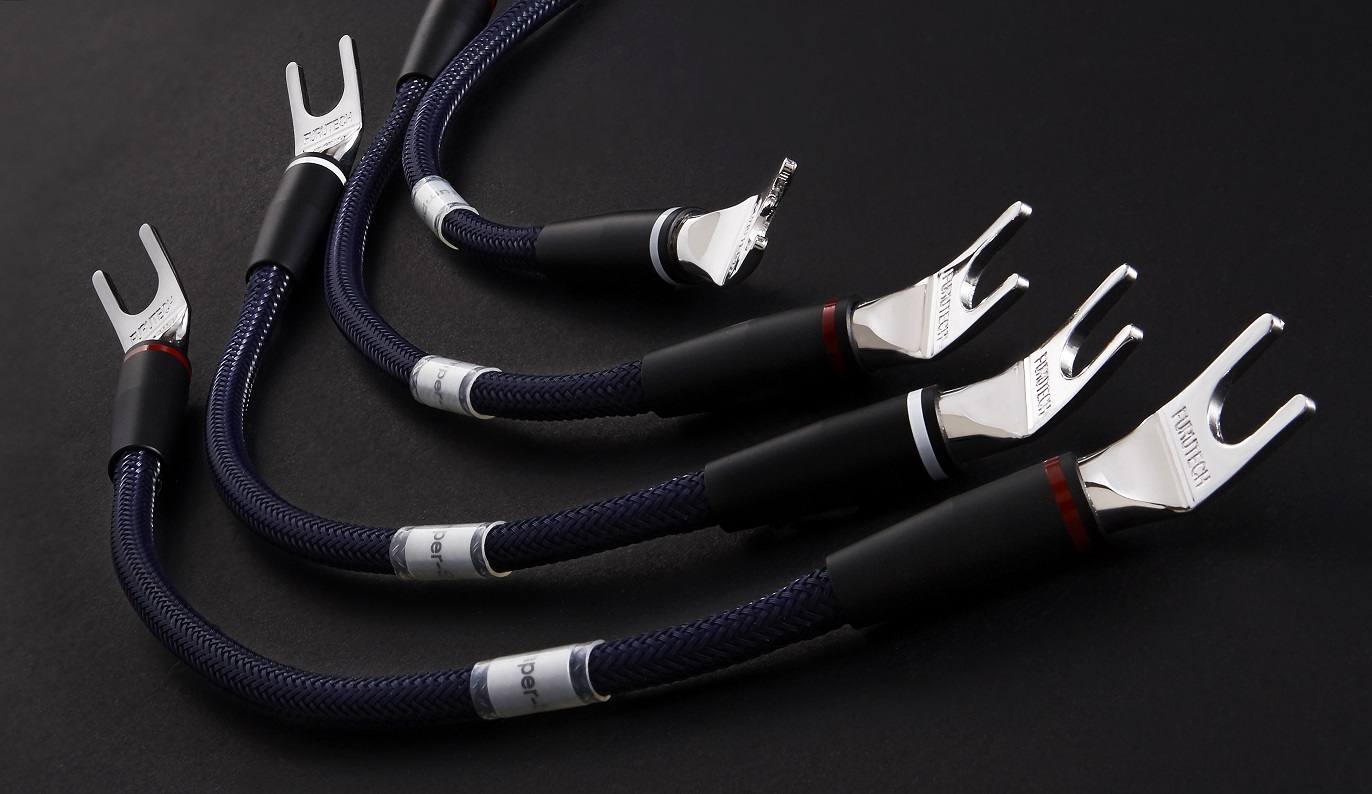 Jumper Series
High End Performance Speaker Jumper Cables
RATING
Jumper-S (Spade connectors)
Jumper-B (Banana connectors)
FEATURES
• High-purity large α (Alpha)-OCC conductors for minimal impedance (3.4 Sq.mm)
• Beautifully engineered high performance rhodium-plated nonmagnetic connectors: FP-201(R) pure copper spades (Jumper-S); FP-200B (R) eutectic copper alloy banana connectors (Jumper-B) or spade to banana by request.
• Insulated with RoHS compliant special audio grade PVC for high performance electrical properties, reduced capacitance and improved vibration improved damping. Flexible and easy to use.
• Results in greater resolution, clarity, powerful dynamics, and an ultra-quiet soundstage in which music develops more fully without artificial upper-frequency "presence region" glare.
• Top-end performance at an affordable price.

SPECIFICATIONS
Construction and Materials
• 7 bundles of 19-strand α (Alpha)- OCC Conductor・0.18mm, 12AWG
• Insulation: Special audio grade PVC, OD: 4.5mm diameter
• Jacket: RoHS Compliant Braided Nylon, approx. 5.5mm
• Connectors: FP-201(R) spade terminal or FP-200B(R) Bananas
• Wire length: 20cm/pc

Electrical Properties of Cable
Max. Conductor Resistance 5.4Ω/km JISC3005 6 20℃
Min. Insulation Resistance 2500 MΩ-km JISC3005 9.1 20℃
Dielectric Strength AC. 3000V/1 min. JISC3005 8

Important customer notice:
Only products sold by authorized Furutech dealers are covered by warranty. In order to obtain warranty service, proof of purchase from the authorized Furutech dealer must be provided to either the Furutech dealer or the Furutech distributor in the country of purchase. The team at Furutech and our partners worldwide thank you for your understanding.
Caution* eBay, Amazon, Yahoo Auction and Rakuten resellers in Japan are not authorized Furutech dealers and there have been confirmed cases of counterfeit products being sold on these platforms out of Japan. Caution* There have been confirmed cases of counterfeit products (Furutech replicas) being sold out of China and Hong Kong on eBay and www.aliexpress.com. Furutech advises against purchasing from either site any "Furutech" labeled product that ships from China or Hong Kong.