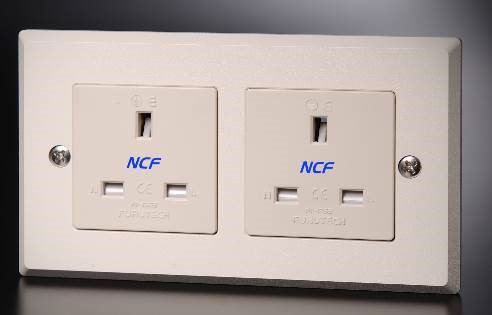 FP-1363-D NCF
High End Performance Duplex Wall Socket
RATING
Type: 2-pole+earth Rating: 13A 250V A.C.
FEATURES
Furutech's Top-Tier FP-1363-D NCF (R) Wall Socket
Refinement has a New Name…
Nano Crystal² Formula - Nano Crystalline, Ceramic and Carbon Powder
Incorporated into select Furutech products, Nano Crystal² Formula --- NCF is comprised of a special crystalline material that has two "active" properties. First, it generates negative ions that eliminate static and secondly, it converts thermal energy into far-infrared. Furutech then combines this remarkable crystalline material with nano-sized ceramic particles and carbon powder for their additional "Piezo Effect" damping properties. The resulting Nano Crystal² Formula is the ultimate electrical and mechanical damping material – only found in Furutech products!

The Pure Transmission Mission
The FP-1363-D NCF (R) manifests a devotion to best performance in every element of AC and signal transfer. Considering that what you actually hear is in a very real sense the direct product of the incoming AC then the final few feet are of prime importance for best performance.

Of course everyone would love to make pure-copper receptacles, but its malleability – lack of stiffness – makes pure copper a poor choice. That's why you'll find phosphor bronze or brass in most receptacles. Furutech's intense engineering scrutiny has resulted in an industry-first, a technique allowing us to use special Furutech rhodium-plated α (Alpha) pure copper conductors. But what really sets the FP-1363-D NCF (R) wall socket apart is "NCF" – Furutech's ultimate damping material - Nano Crystal² Formula eliminates static, "interconverts" thermal, mechanical and electrical energy and damps vibrations. The FP-1363-D NCF (R) can be summed up in a word; virtuoso!

SPECIFICATIONS
• α (Alpha) Pure copper main Conductor (t:1.2 mm)
• Cover material: Poly carbonate cover
• Chassis plate material: The special grade aluminum front plate (t:10mm)
• Body material: Nylon/fiberglass with a special anti-resonance nano-sized crystalline, piezo ceramic particles and carbon damping material "NCF"
• Specified for wire diameters of 2.8mm or 5.5 Sq.mm/10AWG Max. (set screw)
• Dimensions: 152.0mm (L) x 86.0mm (W) x 25.0mm(H)

Important customer notice:
Only products sold by authorized Furutech dealers are covered by warranty. In order to obtain warranty service, proof of purchase from the authorized Furutech dealer must be provided to either the Furutech dealer or the Furutech distributor in the country of purchase. The team at Furutech and our partners worldwide thank you for your understanding.
Caution* eBay, Amazon, Yahoo Auction and Rakuten resellers in Japan are not authorized Furutech dealers and there have been confirmed cases of counterfeit products being sold on these platforms out of Japan. Caution* There have been confirmed cases of counterfeit products (Furutech replicas) being sold out of China and Hong Kong on eBay and www.aliexpress.com. Furutech advises against purchasing from either site any "Furutech" labeled product that ships from China or Hong Kong.