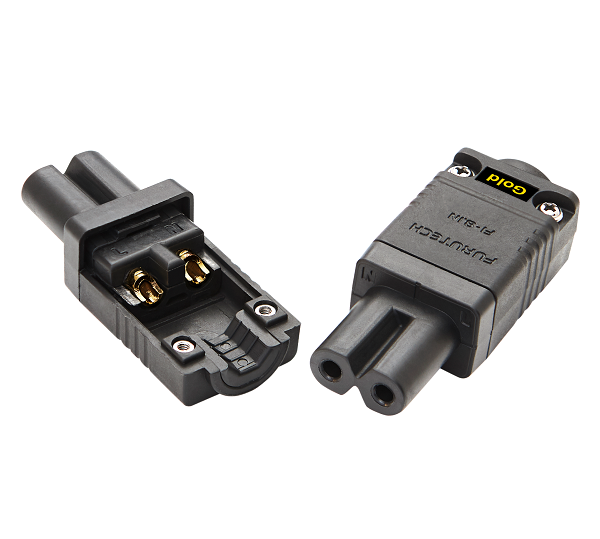 FI-8.1 (G)
High Performance Slimline C7 IEC connector
RATING
7A 125V / 2.5A 250V AC
FEATURES
Furutech is known the world over for a huge variety of top-quality OEM parts and delivers consistently superior results by following Pure Transmission principles; examine every link in the power and signal path and ultimately optimize each and every element.

New FI-8.1N series which delivers sonic improvements features a new design of cable clamp for firm grip and resonance control, and new slimline dimensions for use in tight spaces!

SPECIFICATIONS
• Gold-plated α (Alpha) Phosphor Bronze Conductor.
• Nylon main body and clamps.
• Specified for cable outer diameters of 5.0mm / 10.5mm.
• Wire accommodation: Max. 2.0 Sq.mm / 14AWG.
• Connection: Solder
• Accessories: Round washer head screws (2 Pcs spares).
• Dimensions: 14.5mm X 21.5mm X 51.2mm overall length approx.
• Net Weight: 16.7g approx.

Important customer notice:
Only products sold by authorized Furutech dealers are covered by warranty. In order to obtain warranty service, proof of purchase from the authorized Furutech dealer must be provided to either the Furutech dealer or the Furutech distributor in the country of purchase. The team at Furutech and our partners worldwide thank you for your understanding.
Caution* eBay, Amazon, Yahoo Auction and Rakuten resellers in Japan are not authorized Furutech dealers and there have been confirmed cases of counterfeit products being sold on these platforms out of Japan. Caution* There have been confirmed cases of counterfeit products (Furutech replicas) being sold out of China and Hong Kong on eBay and www.aliexpress.com. Furutech advises against purchasing from either site any "Furutech" labeled product that ships from China or Hong Kong.