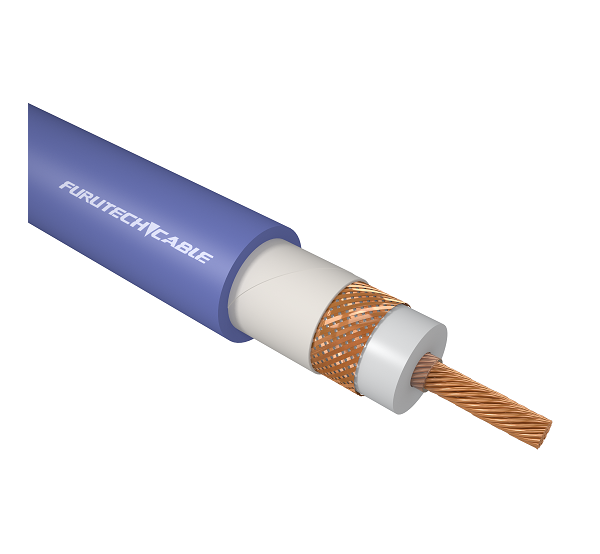 FC-α(Alpha)12
Interconnect Coaxial Bulk Cable
Item

FC-α(Alpha)12

Conductor

Material

α(Alpha) OCC

Construction(pcs/mm)

29/0.18mm

Sectional Area / AWG

0.74 SQ mm / 19AWG

Insulation-1

Material

Audio grade PE (Transparent)

Insulation-2

Material

Audio grade High Density Polyethylene Foam

Shield

Material

0.12mm braidedα(Alpha) OCC conductor

Barrier lay

Material

Cotton paper tape wrap

Sheath

Material

Flexible PVC(Dark Purple Blue)

Cable type

75Ω Coaxial type

  Overall Diameter Approx.    (mm)

 8.0
| | | |
| --- | --- | --- |
| Item | Specification | Test Method |
| Max. Conductor Resistance   Ω/m |     0.149 |    JISC3005  6    20℃ |
| Min. Insulation Resistance   MΩ‧km | >1000 |    JISC3005  9.1   20℃ |
| Characteristic Impedance       Ω | 75±3 | at 10MHz |
| Capacitance                 PF/m | 83.5 | at 1KHz |
| Dielectric Strength          V/1 min. |  AC 1000 |    JISC3005  8 |
RATING
50 Meter Reel
FEATURES
Furutech's α (Alpha) OCC is one of a select few of conductors that Furutech engineers have found to excel in sound reproduction. α(Alpha) OCC is made with high-purity oxygen-free mono-crystal copper using a special casting process. Unlike regular OFC, almost all of the impurities of this high-purity OCC have been removed at the micron level through a special casting process.
SPECIFICATIONS
Important customer notice:
Only products sold by authorized Furutech dealers are covered by warranty. In order to obtain warranty service, proof of purchase from the authorized Furutech dealer must be provided to either the Furutech dealer or the Furutech distributor in the country of purchase. The team at Furutech and our partners worldwide thank you for your understanding.
Caution* eBay, Amazon, Yahoo Auction and Rakuten resellers in Japan are not authorized Furutech dealers and there have been confirmed cases of counterfeit products being sold on these platforms out of Japan. Caution* There have been confirmed cases of counterfeit products (Furutech replicas) being sold out of China and Hong Kong on eBay and www.aliexpress.com. Furutech advises against purchasing from either site any "Furutech" labeled product that ships from China or Hong Kong.