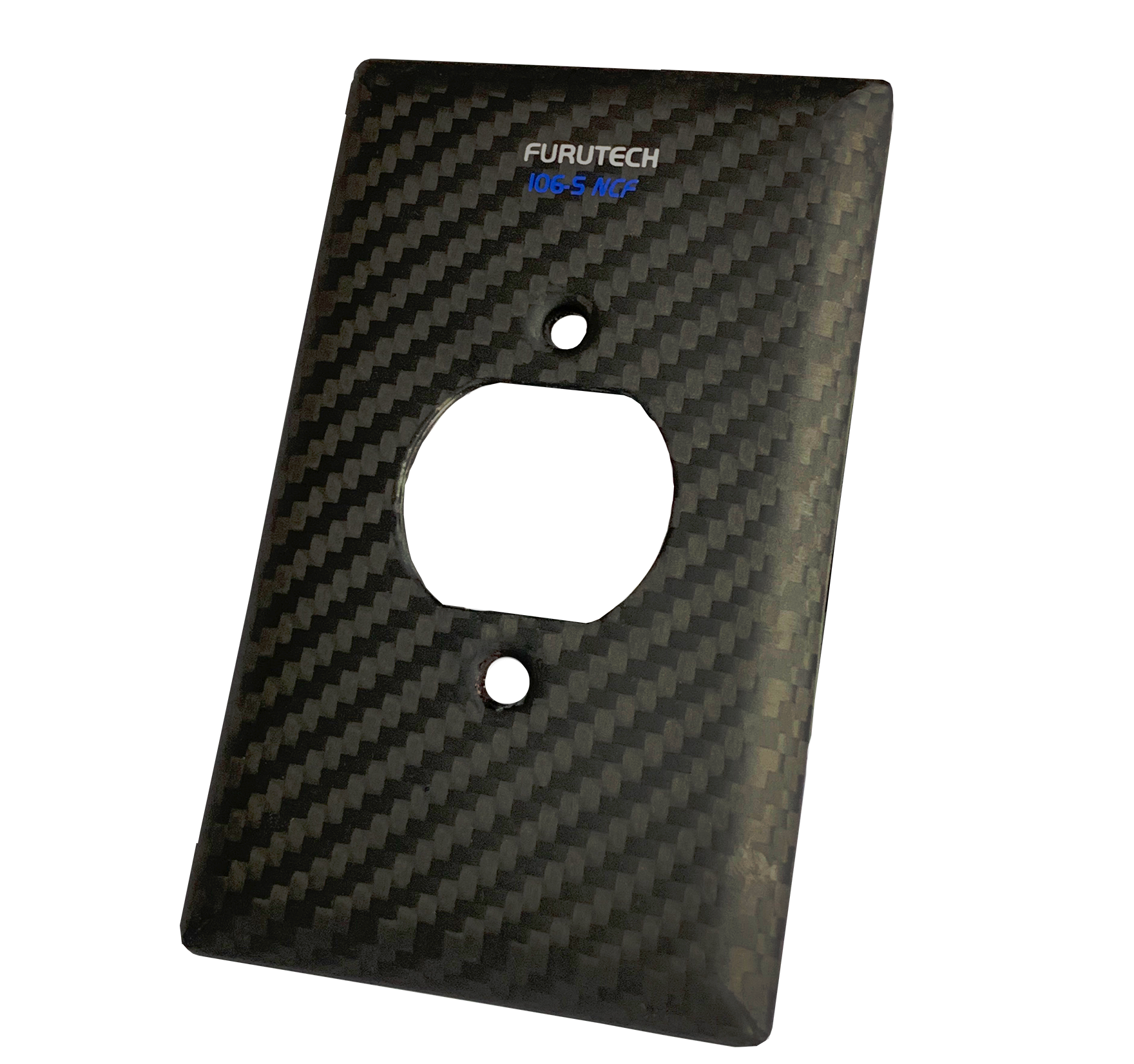 106-S NCF
Top-of-the-line Receptacle Cover
RATING
106-S NCF
High End Performance NCF Damper Outlet Cover

FEATURES
NCF Damper Outlet Cover 106-S NCF is Furutech's "Top of the line" Receptacle Cover. After a multitude of tests involving the best in damping materials, Furutech brings you its masterpiece. This combination of carbon and NCF will be the final touch to your complete AC chain.
Nano Crystal² Formula (NCF).
Incorporated into selected Furutech products, NCF features a special crystalline material that has two 'active' properties. First, it generates negative ions that eliminate static. Second, it converts thermal energy into far infrared. Furutech combines this remarkable material with nano-sized ceramic particles and carbon powder for their additional 'piezoelectric effect' damping properties. The resulting Nano Crystal² Formula is the ultimate electrical and mechanical damping material. Created by Furutech, it is found exclusively in Furutech products.

SPECIFICATIONS
Features:
Formed from a hybrid NCF carbon fiber sheet over a non-magnetic stainless-steel base plate with a special NCF coating material finish - for the most effective damping faceplate available.
New Improved Outlet Cover for GTX-S NCF / GTX-S single receptacle designs.
Stainless fixed screw size: M4 X 12mm (L), Cover overall size:72.2 x 117 x 5.5 mm±0.2mm
Net Weight: 82g approx. (tolerance scope: ± 2g)

Important customer notice:
Only products sold by authorized Furutech dealers are covered by warranty. In order to obtain warranty service, proof of purchase from the authorized Furutech dealer must be provided to either the Furutech dealer or the Furutech distributor in the country of purchase. The team at Furutech and our partners worldwide thank you for your understanding.
Caution* eBay, Amazon, Yahoo Auction and Rakuten resellers in Japan are not authorized Furutech dealers and there have been confirmed cases of counterfeit products being sold on these platforms out of Japan. Caution* There have been confirmed cases of counterfeit products (Furutech replicas) being sold out of China and Hong Kong on eBay and www.aliexpress.com. Furutech advises against purchasing from either site any "Furutech" labeled product that ships from China or Hong Kong.