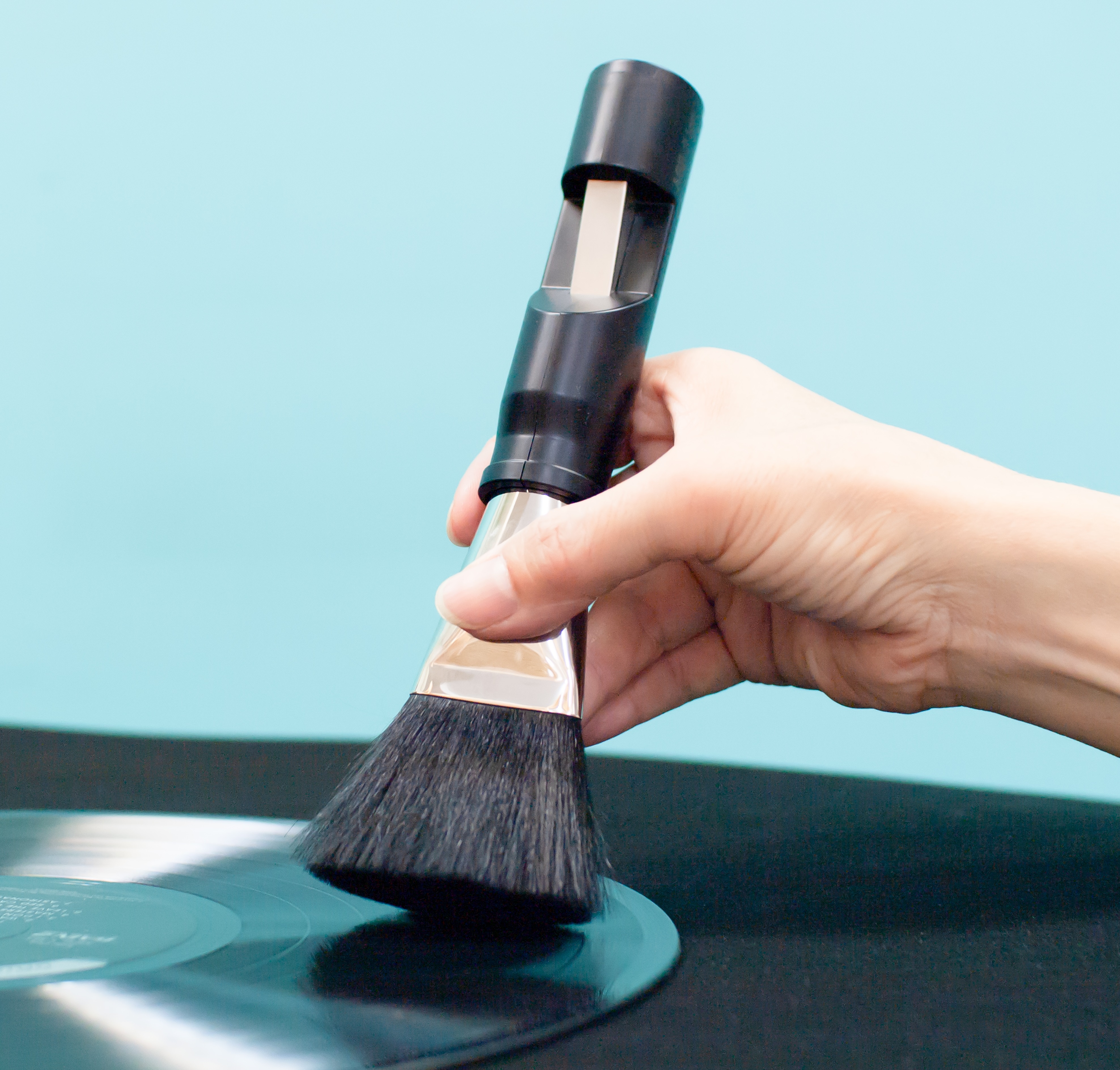 ASB-2 ion
Furutech Select Series Antistatic Brush
RATING
Furutech Select Series
ASB-2 ion
High Performance Antistatic Brush with built-in Ionizer.

FEATURES
A revolutionary static eliminating brush with a built-in ionizer for audio and video applications.

The ASB-2 ion is a revolutionary static eliminating brush incorporating the world's only core-and-sheath composite conductive acrylic fiber "COREBRID TMB" developed by Mitsubishi Chemical Corporation.
The ASB-2 ion deals a double blow to static with its dual static removal process: first, through corona discharge and second, a flow of static eliminating ions, allowing you to enjoy improved sound and image reproduction from your disc media (LPs, CDs, and Blu-ray discs). This revolutionary product solves in a simple brush and a pull of the lever the problem of electrostatic noise deteriorating sound and image quality.

Features:
Incredibly compact in size for an ion generator (Battery-free design: no power source required) the ASB-2 ion generates its own voltage with a piezoelectric element, eliminating static potential difference with a flow of positive and negative ions from a single lever operation.

Most antistatic brushes remove static electricity through corona discharge. However, brushing disc media to remove dust can often generate new floating static fields. The ASB-2 ion solves this problem with a final static eliminating punch – a built-in ionizer emitting a flow positive and negative ion, eliminating any static generated while brushing your disc media. The ASB-2's built-in ionizer sends a flow of positive ions from the top of the brush handle when the lever is pressed and negative ions when the lever is released. The ASB-2 ion requires no batteries and can be used over and over again.

Optimized brush design for analog records:
Core-bridged TMB is an extremely thin short fiber with an outer diameter of only about 30μm. The bristles are thinner and more delicate than hair with a 50% mix of natural wool used to give the bristles more body. The bristles of the ASB-2 ion have been designed to penetrate deep into the grooves of analog records to remove hard-to-get-to dust.

Safe for use on sensitive equipment and componentry:
The highly electrical resistant surface of the fiber (core-and-sheath composite conductive acrylic fiber) reduces the risk of short-circuit when used on sensitive electronic components.


SPECIFICATIONS
Applications:
 Analog records (LPs)
 Optical disc (CD, DVD, Blu-ray Disc, etc.)
 Projector Screens
 Camera Lenses
 Other static charged devices, parts

Important customer notice:
Only products sold by authorized Furutech dealers are covered by warranty. In order to obtain warranty service, proof of purchase from the authorized Furutech dealer must be provided to either the Furutech dealer or the Furutech distributor in the country of purchase. The team at Furutech and our partners worldwide thank you for your understanding.
Caution* eBay, Amazon, Yahoo Auction and Rakuten resellers in Japan are not authorized Furutech dealers and there have been confirmed cases of counterfeit products being sold on these platforms out of Japan. Caution* There have been confirmed cases of counterfeit products (Furutech replicas) being sold out of China and Hong Kong on eBay and www.aliexpress.com. Furutech advises against purchasing from either site any "Furutech" labeled product that ships from China or Hong Kong.