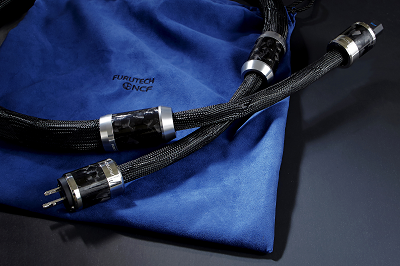 Furutech Co. Ltd. • Tokyo, Japan, manufacturer of ultra-refined analog, digital, video cable and accessories, announces the release of the Project-V1 power cord.
The Project-V1 is Furutech's new flagship power cord and is the culmination of 30 plus years investigation by Furutech into all aspects of power and signal transmission for high end audio applications. The Project V1 features Furutech's ground-breaking technologies, patented designs, and the absolute highest quality materials, including:
-       Furutech's special antistatic and antiresonance NCF material (Nano Crystal² Formula).
-       Piezo "active" materials to mechanically and electrically damp as they "interconvert" resonance into thermal release.
-       Alpha Process (Deep Cyro and Demagnetizing treatment of metal parts).
-       Carbon particle damping materials.
-       Floating Field Damper mechanism shunting electrical potentials to ground
-       Alpha OCC Mono Crystal Conductors.
-       Alpha DUCC Ultra Crystallized High Purity Copper.
Experience and become part of the Project at an authorized Furutech dealer near you.