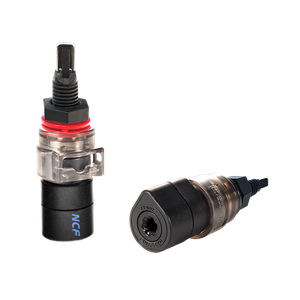 FT-867 NCF
Hig End Performance NCF Binding Post

RATING
Furutech Patented One piece Wound-Wire conductor Fully Insulated Binding Posts FT-867 NCF(R)
(Patent No.: US 8,884,162 B2 / DE102012004483A1)
NCF damping fixed ring -Nano Crystal² Formula (NCF).

FEATURES
Incorporated into selected Furutech products, NCF features a special crystalline material that has two 'active' properties. First, it generates negative ions that eliminate static. Second, it converts thermal energy into far infrared. Furutech combines this remarkable material with nano-sized ceramic particles and carbon powder for their additional 'piezoelectric effect' damping properties. The resulting Nano Crystal² Formula is the ultimate electrical and mechanical damping material. Created by Furutech, it is found exclusively in Furutech products.

All audiophiles search for the same qualities: Verisimilitude to the original event, a sense of engagement promoting suspension of disbelief, a visceral immersion in the audio video experience. They also know that everything in the signal path makes a difference, and that includes speaker binding posts.
This critical connection often proves the weakest link in the quest for tight, low-distortion signal. Furutech's unique patented wound-wire conductor construction binding posts sit at the very highest rung of build quality and musical performance, maintaining the most noise-free and undistorted signal path possible.

Furutech's beautifully finished, beautiful sounding Binding Posts are the result of meticulous engineering and careful audition of various suitable materials. The FT-867 NCF(R) features a one-piece wound-wire Alpha-OCC conductor. This special conductor allows for reduced metal mass in the binding post terminal pole construction resulting in minimal impedance and less susceptibility to the negative effects of RFI and magnetic fields. Also, the environmentally friendly construction process of the wound-wire conductor means less metal waste compared to conventional CNC, mold or pressing processes. The FT-867 NCF(R) fitted with Nylon / fiberglass with special "NCF" anti-resonance damping material housing.

SPECIFICATIONS
Features and Materials
• Patented One-piece wound-wire construction. (Patent No.: US 8,884,162 B2 / DE102012004483A1)
• Main conductor: Rhodium α (Alpha)-OCC wound-wire conductor.
• Housing: Nylon/fiberglass with piezo ceramic and carbon damping material
• Main body: Nylon / fiberglass with special "NCF" anti-resonance damping material - nano-sized crystalline, piezo ceramic particles and carbon powder compound resin injection molding.
• Nylon fiber glass injected nut.
• Nylon (red/black) and Polycarbonate insulation.
• Connections: FT-210 series 250 type Female disconnect connector termination.
• Specified for core diameters up to 4.5mm.
• Dimensions: Housing 22.5mm (D) x 69.6mm overall length approx.


Important customer notice:
Only products sold by authorized Furutech dealers are covered by warranty. In order to obtain warranty service, proof of purchase from the authorized Furutech dealer must be provided to either the Furutech dealer or the Furutech distributor in the country of purchase. The team at Furutech and our partners worldwide thank you for your understanding.
Caution* eBay, Amazon, Yahoo Auction and Rakuten resellers in Japan are not authorized Furutech dealers and there have been confirmed cases of counterfeit products being sold on these platforms out of Japan. Caution* There have been confirmed cases of counterfeit products (Furutech replicas) being sold out of China and Hong Kong on eBay and www.aliexpress.com. Furutech advises against purchasing from either site any "Furutech" labeled product that ships from China or Hong Kong.