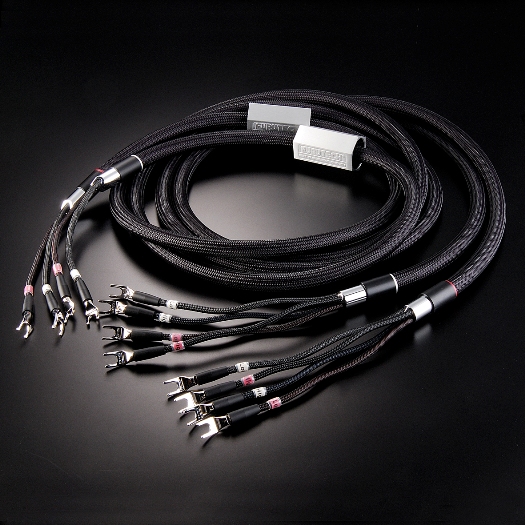 Bi-Wire Speaker reference III
High End Performance Speaker Cable
RATING
α (Alpha) Conductor Is Composed Of Fine OCC Wire Strands
Treated With Furutech's α (Alpha) Cryogenic and Demagnetizing Process

Bi-Wire Speaker reference III-04 2 meter
Bi-Wire Speaker reference III-06 3 meter
FEATURES
op of the line double-shielded α (Alpha)-OCC conductor interconnects, power cords and digital cables featuring extraordinary build quality and Formula GC-303 antimagnetic EMI-absorbent modules surrounding the cable offering greater resolution, more powerful dynamics, and virtuoso performances from all your components. All connectors are rhodium-plated for optimal signal transfer.


" Furutech might rightly be thought of as WBT's elder Japanese brother. Elder and bigger ... Shielding from and against noise pollution in cables has become more important than ever - and Furutech has developed a very powerful yet elegant antidote … Bravo."
-- Srajan Ebaen, 6moons.com



Features:
・Shielded α (Alpha)-OCC Conductors eliminate radiated noise

・Formula GC-303 Antimagnetic EMI-Absorbent Modules surround each cable

・High performance beautifully engineered and finished with nonmagnetic rhodium plated pure copper spades

・(Nonmagnetic rhodium-plated eutectic cast brass FP-202 (R) Banana connectors by request).

・Insulated with Special Grade PE reducing capacitance and damping vibration

・Results in greater resolution, clarity, powerful dynamics, and an ultra-quiet soundstage in which music develops more fully without artificial upper-frequency "presence region" glare.

・GC-303 allows a deeper, tighter bass to form a solid foundation for the rest of the frequency range, better defining the original recording's venue. Natural, unforced detail reveals nuance and energy for an engaging musical experience.
SPECIFICATIONS
6 bundles of 25-strand α (Alpha)-OCC Conductor・0.16mm for Treble, 6 bundles of 41-strand α (Alpha)-OCC Conductor・0.16mm for Bass,

・Insulation: Special grade PE (Red/White for Bass, 5.1mm diameter)
(Blue/Black for Treble, 4.8mm diameter)

・Cable Lay: Four cores twisted together with cotton yarn, PVC core in center

・Sheath: Two layers flexible PVC (Purple/Red) 16.0±0.2mm diameter

・Shield: Special EMI- and noise-absorbent Formula GC-303 module

・Jacket: Nylon yarn braid approx. 17.0±0.2mm
Important customer notice:
Only products sold by authorized Furutech dealers are covered by warranty. In order to obtain warranty service, proof of purchase from the authorized Furutech dealer must be provided to either the Furutech dealer or the Furutech distributor in the country of purchase. The team at Furutech and our partners worldwide thank you for your understanding.
Caution* eBay, Amazon, Yahoo Auction and Rakuten resellers in Japan are not authorized Furutech dealers and there have been confirmed cases of counterfeit products being sold on these platforms out of Japan. Caution* There have been confirmed cases of counterfeit products (Furutech replicas) being sold out of China and Hong Kong on eBay and www.aliexpress.com. Furutech advises against purchasing from either site any "Furutech" labeled product that ships from China or Hong Kong.