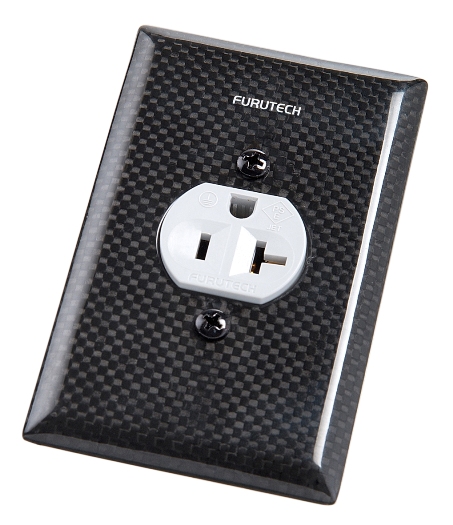 Outlet Cover 103-S
High End Performance Single Receptacle Plate
RATING
Ultimate Performance • Ultimate Refinement • Ultimate Luxury
FEATURES
Many A/V enthusiasts go to great lengths in carefully setting up major system components,
but pay little attention to AC power. Furutech knows that each and every part of the chain is as important as the next,
so maximum attention is lavished by Furutech's engineers on all aspects of power transfer to set new benchmarks of performance.


The new and greatly improved Pure transmission 104-S single receptacle cover plate is finished in carbon and
glass fiber with stainless steel screws. This plate cover has been designed for use with Furutech's GTX and FPX series receptacles.
SPECIFICATIONS
・Stainless Fixed Screw/Size: M4 X 12mm(L)

・Carbon fiber and Glass fiber finished Stainless Steel cover

・Cover Size: 71X116 mm(t:2.3mm ± 0.1mm)



Receptacle and cover sold separately.
Important customer notice:
Only products sold by authorized Furutech dealers are covered by warranty. In order to obtain warranty service, proof of purchase from the authorized Furutech dealer must be provided to either the Furutech dealer or the Furutech distributor in the country of purchase. The team at Furutech and our partners worldwide thank you for your understanding.
Caution* eBay, Amazon, Yahoo Auction and Rakuten resellers in Japan are not authorized Furutech dealers and there have been confirmed cases of counterfeit products being sold on these platforms out of Japan. Caution* There have been confirmed cases of counterfeit products (Furutech replicas) being sold out of China and Hong Kong on eBay and www.aliexpress.com. Furutech advises against purchasing from either site any "Furutech" labeled product that ships from China or Hong Kong.