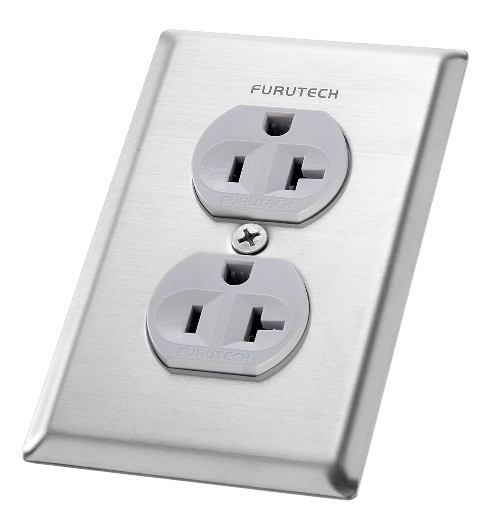 Outlet Cover 102-D
Duplex Receptacle Cover Plate
RATING
FEATURES
The new and greatly improved Pure Transmission 102-D duplex and 102-S single Receptacle Cover Plates are
finished in stainless steel and employ stainless screws. These two plate covers are designed for
use with Furutech's FP-15A-N1/FP-20A-N1/FT-D20A/FT-S20A series receptacles.


Furutech Takes Resonance Control Seriously

The remarkable Fo-Q Anti-Resonance Material used in these superb receptacle cover plates was developed by Prof.
Masao Sumita of the Tokyo Institute of Technology, with support from the JST (Japanese Science and Technology Promotion Agency).

This incredible material reduces mechanically-induced distortion using the principles of molecular friction
and piezoelectric loss to remarkable effect in improving every aspect of sound and image reproduction.
SPECIFICATIONS
・Stainless Fixed Screw/Size:M4 X 12mm(L)
・Stainless Cover /Size :71X116 mm(t:1.2mm) With "FO-Q" vibration damping material
Important customer notice:
Only products sold by authorized Furutech dealers are covered by warranty. In order to obtain warranty service, proof of purchase from the authorized Furutech dealer must be provided to either the Furutech dealer or the Furutech distributor in the country of purchase. The team at Furutech and our partners worldwide thank you for your understanding.
Caution* eBay, Amazon, Yahoo Auction and Rakuten resellers in Japan are not authorized Furutech dealers and there have been confirmed cases of counterfeit products being sold on these platforms out of Japan. Caution* There have been confirmed cases of counterfeit products (Furutech replicas) being sold out of China and Hong Kong on eBay and www.aliexpress.com. Furutech advises against purchasing from either site any "Furutech" labeled product that ships from China or Hong Kong.