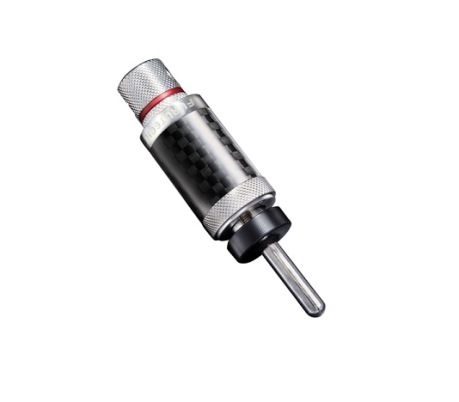 CF-202(R)
High End Performance Banana Connector
RATING
2 pcs / set

"One last comment has to go to the finish of the connectors … Tolerances are spot on, the stuff goes in smoothly, locks and unlocks without any undue play … There's something luxurious and silken about the Furutech connectors. Like fine Swiss watches. This stuff also routes and drapes easily. … Since it does perform to a very high standard, getting the tactile satisfaction and pride of ownership
bits thrown into the bargain is worth mentioning.
-- Srajan Ebaen, 6moons.com
FEATURES
・α (Alpha) Pure Copper rhodium-plated center conductor
・α (Alpha) Nonmagnetic stainless steel body
・Carbon fiber and Nonmagnetic stainless steel housing
・Conductor wire fixed by screw set or soldering.
・Specially designed fixed wire construction to ensure the stability of the conductor's contact.
・Furutech special composite damping ring.
SPECIFICATIONS
・Specified for wire diameters max. 5.5mm
・Dimensions: 15.2mm diameter x 64.2mm overall length

Important customer notice:
Only products sold by authorized Furutech dealers are covered by warranty. In order to obtain warranty service, proof of purchase from the authorized Furutech dealer must be provided to either the Furutech dealer or the Furutech distributor in the country of purchase. The team at Furutech and our partners worldwide thank you for your understanding.
Caution* eBay, Amazon, Yahoo Auction and Rakuten resellers in Japan are not authorized Furutech dealers and there have been confirmed cases of counterfeit products being sold on these platforms out of Japan. Caution* There have been confirmed cases of counterfeit products (Furutech replicas) being sold out of China and Hong Kong on eBay and www.aliexpress.com. Furutech advises against purchasing from either site any "Furutech" labeled product that ships from China or Hong Kong.