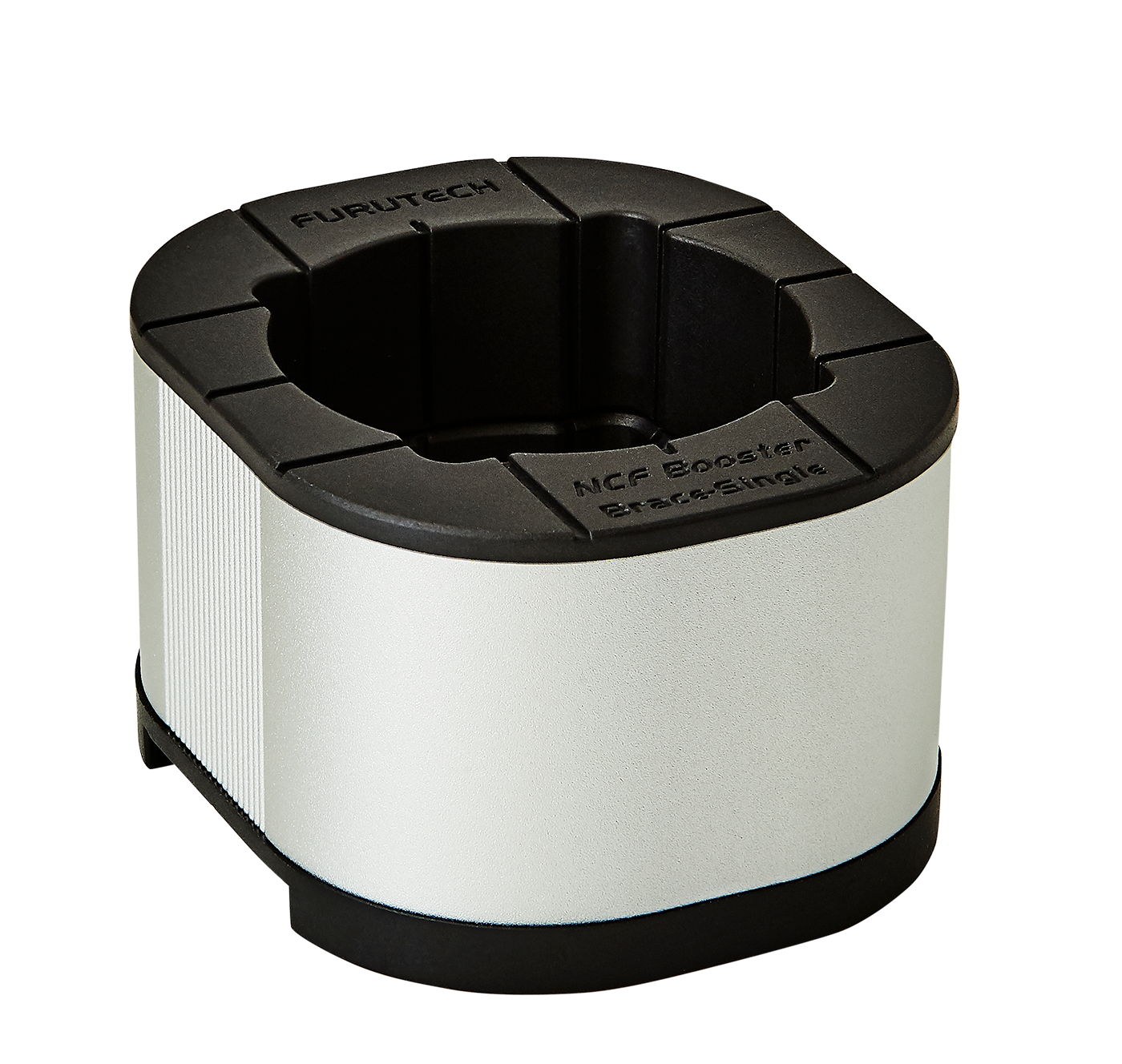 NCF Booster Brace-Single
Power Connector Damping Support
-Awards-
-Reviews-
-Furutech NCF Booster-Brace-Single-
Dr. David W. Robinson, Editor-in-Chief of Positive Feedback reports:
…we have our Vinno Rossi L2i-SE reference integrated amplifier/DAC/phono amp and an iFi Pro iDSD DSD512-capable DAC/Headphone Amp/ Preamp sharing a pair of AC receptacles with a two-receptacle Booster-Brace via the Clarus Concerto. This is a very high-resolution system. Cables are a combination of TARA Labs (XLR and Speaker cables), Kubala-Sosna Realization Reference USB cable, Synergistic Research Galileo SX reference power cable, Skogrand Beethoven Power Cable, and Focal Sopra 1 Monitor Speakers and dedicated stands. I had been using this combination for several months now, plugged into the same receptacles on the Concerto that I used when I installed the Booster-Brace, and was using DSD512 and DSD256 albums as sources. The DSD512 from NativeDSD.com is particularly astonishing, although the DSD256 from various sources is also remarkable.
The results of the Booster-Brace in this application was immediately apparent to me: Greater transparency, more nuanced detail, and a sense of improved solidity in the imaging of all recordings that I've heard.
This is a notable achievement. At the DSD256 and (especially) DSD512 levels, the performance wrought by the Booster-Braces cannot be gainsaid. I would not want to be without it.
< Component use >

Photos from Furutech customers:

RATING
NCF Booster-Brace-Single
FURUTECH original design --- Hybrid multi-material construction for improved sound quality
Not a Sound Enhancer – A Sound revealer!

The NCF Booster-Brace-Single is a versatile addition to the NCF Booster series for NCF damping support of any IEC connector, schuko connector or US male AC connector, at wall sockets, on power distribution units or at component IEC inlets.
FEATURES
Nano Crystal² Formula (NCF).
Incorporated into selected Furutech products, NCF features a special crystalline material that has two 'active' properties. First, it generates negative ions that eliminate static. Second, it converts thermal energy into far infrared. Furutech combines this remarkable material with nano-sized ceramic particles and carbon powder for their additional 'piezoelectric effect' damping properties. The resulting Nano Crystal² Formula is the ultimate electrical and mechanical damping material. Created by Furutech, it is found exclusively in Furutech products.

SPECIFICATIONS
Overall Dimensions: W 54.3 X L 64.8 X H 38.5mm approx. Net Weight: 67.5g approx.
Important customer notice:
Only products sold by authorized Furutech dealers are covered by warranty. In order to obtain warranty service, proof of purchase from the authorized Furutech dealer must be provided to either the Furutech dealer or the Furutech distributor in the country of purchase. The team at Furutech and our partners worldwide thank you for your understanding.
Caution* eBay, Amazon, Yahoo Auction and Rakuten resellers in Japan are not authorized Furutech dealers and there have been confirmed cases of counterfeit products being sold on these platforms out of Japan. Caution* There have been confirmed cases of counterfeit products (Furutech replicas) being sold out of China and Hong Kong on eBay and www.aliexpress.com. Furutech advises against purchasing from either site any "Furutech" labeled product that ships from China or Hong Kong.