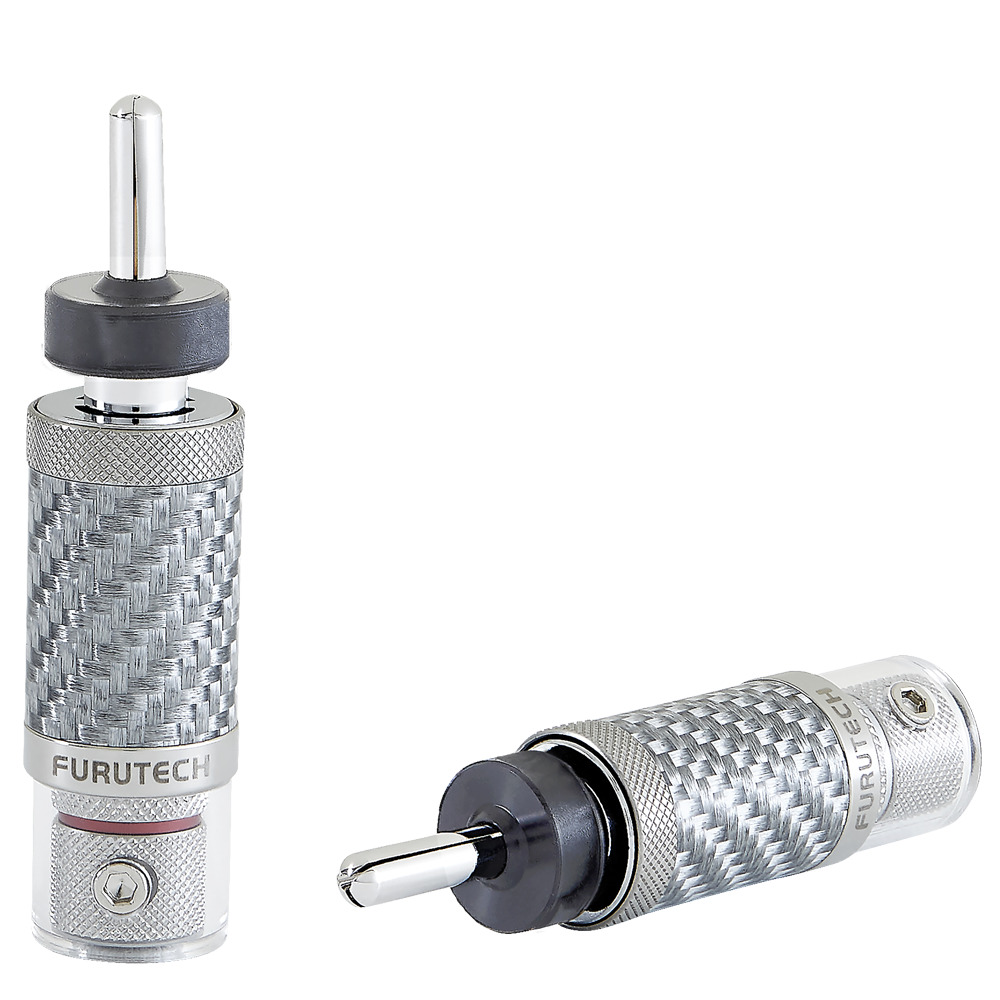 CF-202 NCF(R)
High End Performance Banana Connector
RATING
2 pcs / set
FEATURES
1. α (Alpha) Pure Copper rhodium-plated one-piece center conductor.
2. NCF damping ring for the Pin is formed with a multi compound resin. This resin incorporates Liquid Crystal Polymer (LCP), nano-sized ceramic particles and carbon powder for their additional "Piezo Effect" damping properties. As well as Furutech's NCF (Nano Crystal² Formula) which eliminates static, "interconverts" thermal, mechanical, and electrical energy and damps vibrations. NCF delivers improvements in the depth and focus of the sound stage, harmonics and tonal balance. Low frequencies are cleaner, with a greater sense of definition made possible by a lowered noise floor.
3. Housing: Multilayer hybrid NCF carbon housing composed of an outer hard clear coat over with another layer of Hybrid NCF Silver plated 3k carbon fiber on a nonmagnetic stainless-steel Housing. The best of damping and insulation materials improve frequency extension and tonal balance.
4. Knurling end housing.
5. End housing insulation ring.
6. α (Alpha) Nonmagnetic stainless-steel body.
7. Special stainless-steel clamp compacts stranded wire for improved connection.
8. Aluminum color ring
9. Center conductor locking set.
10. Conductor wire fixed by set screw or soldering.
11. Specially designed fixed wire construction to ensure the stability of the conductor's contact.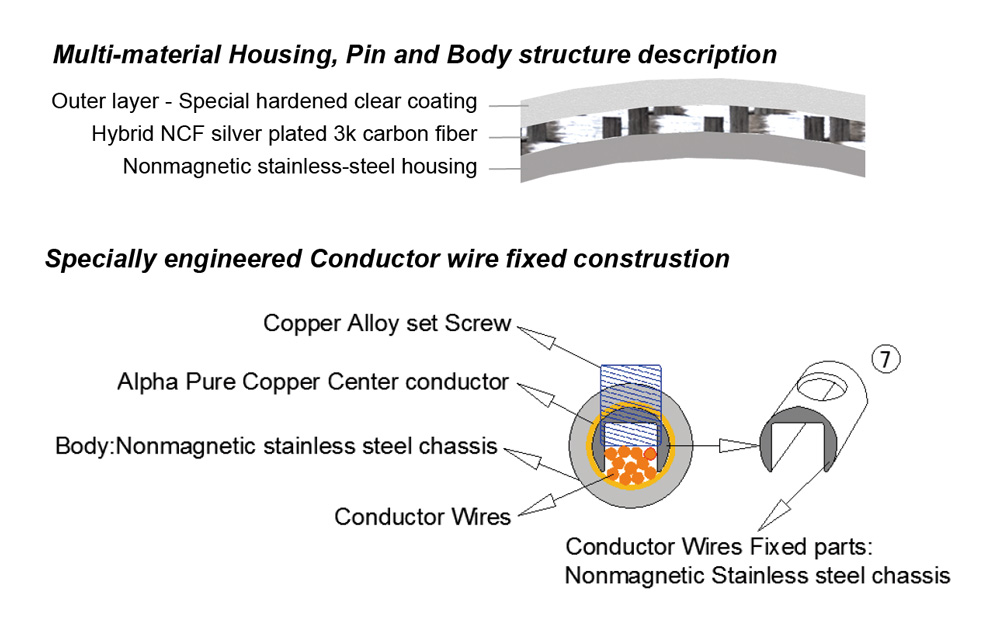 SPECIFICATIONS
. Specified for wire diameters max. 5.5mm
. Dimensions: 15.2mm diameter x 60.5mm overall length approx.
. Net Weight: 33.4g approx.

Important customer notice:
Only products sold by authorized Furutech dealers are covered by warranty. In order to obtain warranty service, proof of purchase from the authorized Furutech dealer must be provided to either the Furutech dealer or the Furutech distributor in the country of purchase. The team at Furutech and our partners worldwide thank you for your understanding.
Caution* eBay, Amazon, Yahoo Auction and Rakuten resellers in Japan are not authorized Furutech dealers and there have been confirmed cases of counterfeit products being sold on these platforms out of Japan. Caution* There have been confirmed cases of counterfeit products (Furutech replicas) being sold out of China and Hong Kong on eBay and www.aliexpress.com. Furutech advises against purchasing from either site any "Furutech" labeled product that ships from China or Hong Kong.