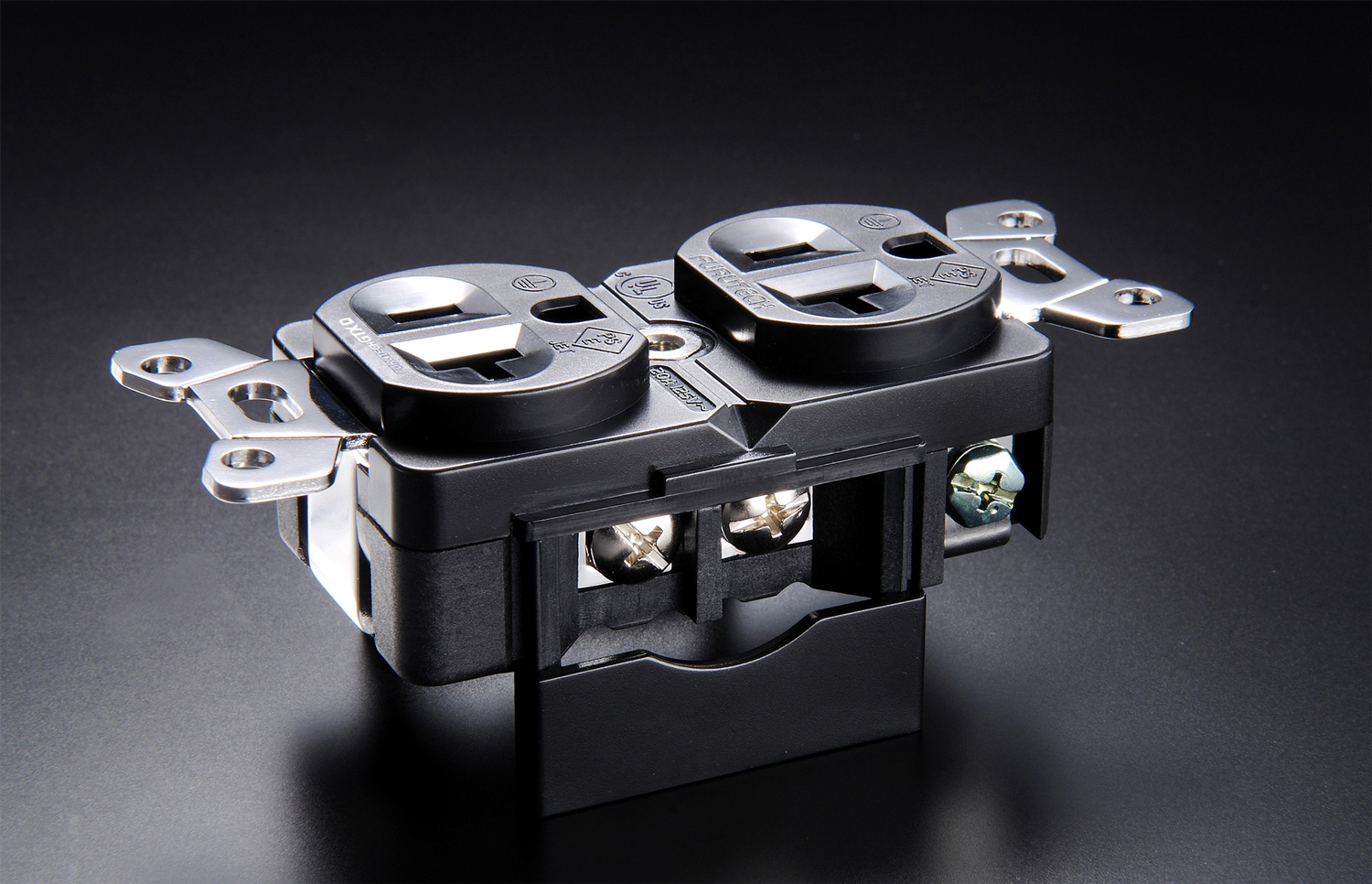 GTX-D(R)/(G)
High End Performance
20A 125V Duplex Receptacles
RATING
Furutech's Top-Tier GTX Receptacles
Refinement has a New Name…

GTX-D(R) Rhodium-Plated duplex receptacles
GTX-D(G) Gold-Plated duplex receptacles

Type: 2-pole+earth Rating: 20A 125V A.C.

Suggested max. torque setting for the polarity screws of the GTX-D series is 12Kg‧cm / 10 inch-pounds / 117 centiNewton meters Using a PH2 "+"type screwdriver
FEATURES
The Pure Transmission Mission
A very Furutech power product, manifesting a devotion to best performance in every element of AC and signal transfer Considering that what you actually hear is in a very real sense the direct product of the incoming AC then the final few feet are of prime importance for best performance.

Of course everyone would love to make pure-copper receptacles, but its malleability – lack of stiffness – makes pure copper a poor choice. That's why you'll find less conductive metals like beryllium copper, phosphor bronze or brass in some receptacles. Furutech's intense engineering scrutiny has resulted in an industry-first, a technique allowing us to use special Furutech 24k gold- or rhodium-plated α (Alpha) pure copper conductors strengthened and sprung by our innovative nonmagnetic Stainless Steel Conductor Spring System that keeps a firm grip yet won't damage male connector blades or their plated surfaces. Even the screw-down pressure plates are curved to maximize contact area. The GTX receptacle can be summed up in a word; virtuoso!
Feel, experience and communicate with music and sound!
SPECIFICATIONS
・Rhodium or gold-plated α (Alpha) Pure Copper Conductor (0.8mm)

・Nonmagnetic stainless conductor spring system

・Body material: Nylon/fiberglass with piezo ceramic and carbon damping material

・Cover material: Polycarbonate

・Parts set with 2.0mm-thick stainless brace plate with minimal magnetic properties

・Specified for wire diameters of 4mm (set screw)

・Dimensions: 104.0 mm (L) x 47.2 mm (W) x 28.0 mm (H)

・Total attention to detail and build quality extends right down to a specially designed patent-pending
 conductor pressure plate (see below) that increases contact area

・Furutech spade terminal FP-209 recommended for 10 AWG wire
Important customer notice:
Only products sold by authorized Furutech dealers are covered by warranty. In order to obtain warranty service, proof of purchase from the authorized Furutech dealer must be provided to either the Furutech dealer or the Furutech distributor in the country of purchase. The team at Furutech and our partners worldwide thank you for your understanding.
Caution* eBay, Amazon, Yahoo Auction and Rakuten resellers in Japan are not authorized Furutech dealers and there have been confirmed cases of counterfeit products being sold on these platforms out of Japan. Caution* There have been confirmed cases of counterfeit products (Furutech replicas) being sold out of China and Hong Kong on eBay and www.aliexpress.com. Furutech advises against purchasing from either site any "Furutech" labeled product that ships from China or Hong Kong.